Magazines & Journals

TACS Members receive Glazed Expressions, a colourful and well-researched magazine also including up-to-the-minute news items, which is published twice a year.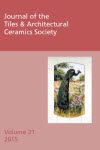 TACS Members receive the annual TACS Journal, a peer-reviewed international journal containing substantial articles of original research.
2023 Index to Glazed Expressions Nos. 1–90 & TACS Journal Nos. 1–28
---
Books

Edited by Hans van Lemmen & John Malam, Richard Dennis/TACS, 1991, 180pp, 36 in full colour, paperback The catalogue of the travelling exhibition of the same name, organised to celebrate the 10th anniversary of the Tiles and Architectural Ceramics Society. 18 excellent chapters outline the history of tiles in Europe and the UK, each written by an acknowledged specialist in that field.

Brightening The Long Days: Hospital Tile Pictures
Author: John Greene. TACS, 1987. An illustrated book on the use of pictorial tiles in children's wards. Out of Print.

European Industrial Tiles
Fully-illustrated catalogue of the travelling exhibition on European Industrial Tiles, which opened at Boizenburg in August 2004 and arrived at Jackfield Tile Museum in September 2005. The 144-page catalogue, in four languages, has a series of essays on industrial tile production in Britain (by Hans van Lemmen), Germany, Belgium, France and Holland, and shows all the tiles in full colour. Out of Print.
---
Special Items & Downloads
Author: Dennis Hadley. Published posthumously and with permission of the Author by TACS in 2018. Available as a free download.

Substantial report is currently available as a free downloadable PDF.

Full list of Powell's of Whitefriars opus sectile locations available as a free download. The list was compiled by Dr Dennis Hadley during private research at the Powell's of Whitefriars archive held by the Victoria and Albert Museum, Archive of Art and Design.

The papers given at the Tiles and Architectural Ceramics Society Conference 'Church Ceramics: Decorative tiles, mosaic and terracotta during and after the Gothic Revival' are available as free PDF downloads.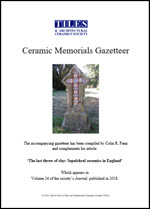 Ceramic Memorials Gazetteer has been compiled by Colin R. Fenn and complements his article: 'The last throw of clay: Sepulchral ceramics in England' which appears in Volume 24 of the society's Journal, published in 2018.
---
Trails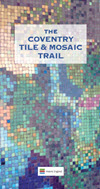 We hope you enjoy our trail which will take you through the history of this most fascinating city using the ancient art form of tile and mosaic production.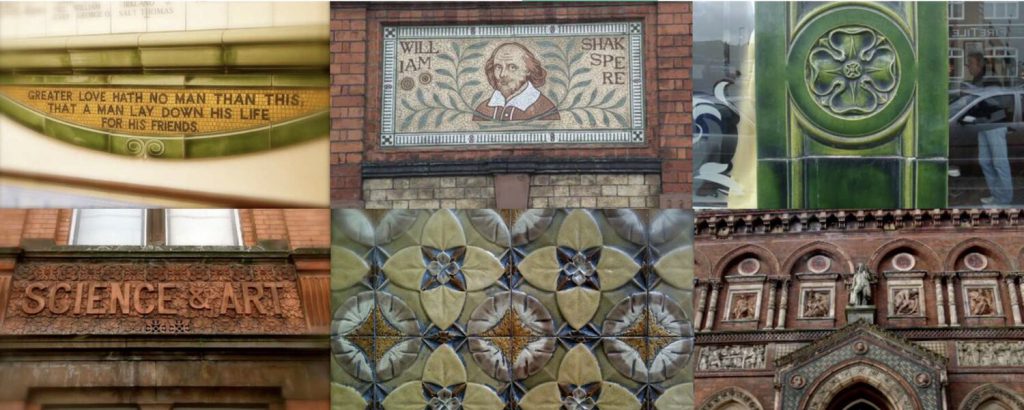 Take a tour around the The Potteries Tile Trail! The Potteries Tile Trail includes a series of six introductory 'tile trails' – one for each of Stoke- on-Trent's famous six towns: Tunstall, Burslem, Hanley, Stoke, Fenton and Longton. The trails take you around various locations in the towns where you will find interesting examples of ceramics in buildings and public spaces. The trails offer a fantastic way to explore the history and heritage of the city and enjoy the city's wonderful 'in situ' ceramics.