TACS Conservation Information Sheets
TACS Conservation
Information Sheets Nos 1, 2, 3, 6 & 7 are courtesy of the Jackfield Conservation Studio. TACS and the Jackfield Conservation Studio do not accept responsibility for the results of any action taken following the use of these guidelines.
Further reading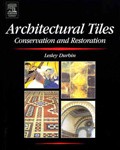 ARCHITECTURAL TILES; Conservation and Restoration. Lesley Durbin, Elsevier, 2004, 203pp, 149 b & w + 10 colour illustrations, boards, ISBN: 0-7506-5832-0.
TACS does not recommend or accept responsibility for the quality or performance of goods and services provided by any of the individuals firms or companies mentioned on this website or linked sites. Their details are merely provided for information.