A former TACS member based in the US is auctioning his tile collection.  He has an extensive collection of English tiles, collected over 50+ years, including some by De Morgan, Pilkingtons, and Doulton. Selections of some of these will be auctioned on New Year's Day and more on a date to be determined
Here are a selection of tile images descriptions from the online Auction Catalogue (by permission of Schmidt's Antiques Inc.)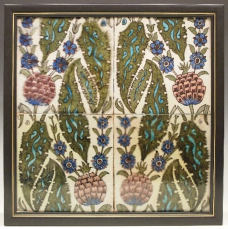 Set of Four Late 19th century William De Morgan Art Pottery Tiles. Aesthetic era tiles, in floral and leaf motifs, are each in colors of mauve, blue, turquoise, and green against a white ground. Crazing, some minor roughness/flakes around edges. Each is 6 x 6, framed as one within a contemporary black frame, 13 1/2 x 13 1/2″ high overall.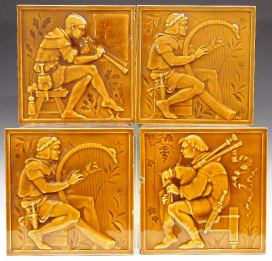 Four Minton Ceramic Tiles by Edward Hammond, c. 1875. Covered overall in an amber glaze, each depicts a Medieval Musician playing an instrument, including the bagpipes, the harp, and a woodwind instrument-possibly the Shawm. Each with maker's markings at underside. Crazing and some surface scratches, some degree of nicks/flakes or chipping around the edges. 8 x 8″.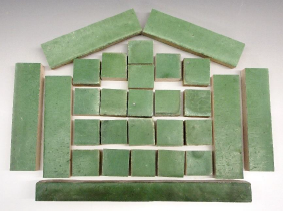 A Collection of Seventy-Three Grueby Border Tiles. Includes 1 large rectangular tile, 24 medium sized rectangular tiles, and 48 small square tiles; all in a matte green glaze. Unmarked. Some light scratches and alligatoring to the surface. From 1 1/2 to 11 1/2″ long.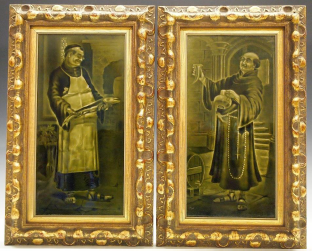 A Pair of Turn of the century Sherwin & Cotton Tiles. Both with an olive-green glaze overall and includes 1 image of a monk holding a fish and 1 image of a monk with wine. No visible markings. Crazing and light surface scratches. In gilded frames with some damage, 9 1/2 x 15 1/2″ high overall.
TACS is not responsible in any way for this auction or the accuracy of tile descriptions above. Details are subject to change, if in doubt please check with the organiser.